The lake last winter - a frozen month of ice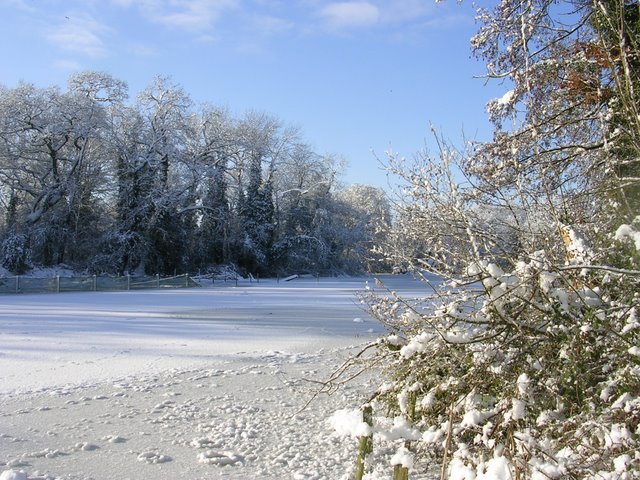 They say we are in for another cold winter. It was certainly exceptionally cold last January and in consequence Maiden Erlegh Lake remained frozen over for the entire first month of 2011. It was highly picturesque, however, and gave an excellent opportunity to view the over-wintering population of resident waterbirds. With water entering through the culvert, and draining over the weir, the two ends of the lake became refuges for the birds seeking freedom from ice and the chance to feed. The birds clustered together and were highly visible against the white backdrop.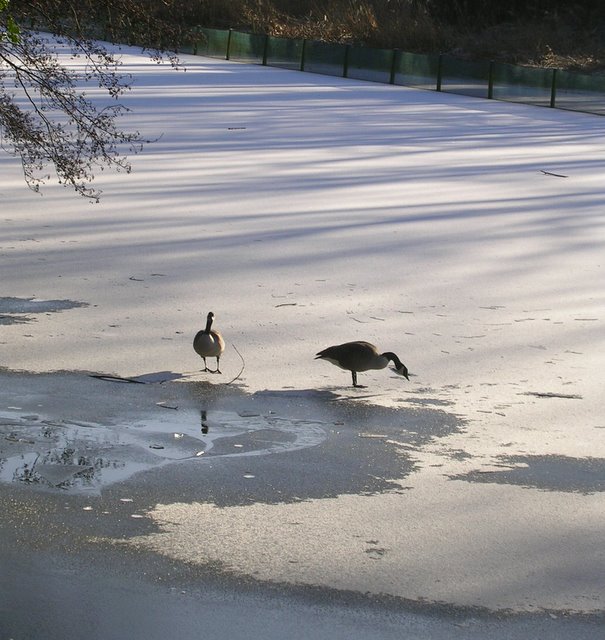 The sediment pond near Beech Lane attracted a group of six or seven of the distinctive male mandarin ducks, together with their drabber mates, sitting on the barrier, or swimming in the small pool of flowing water. On the surrounding banks was a pair of moorhens foraging through the frozen grass and tending to their brood of five juveniles that had survived the latter months of 2010. At the other end, by the weir, the mallards and Canada geese assembled, joining the swan and its remaining cygnet in their wintery camouflage and the black coots silhouetted against the ice. Often there are 17, 20 or more Canada geese on the lake, and additional geese can be seen flying in from adjacent lakes, but in these frozen conditions the resident birds numbered only seven, the one with a broken wing instantly identifiable.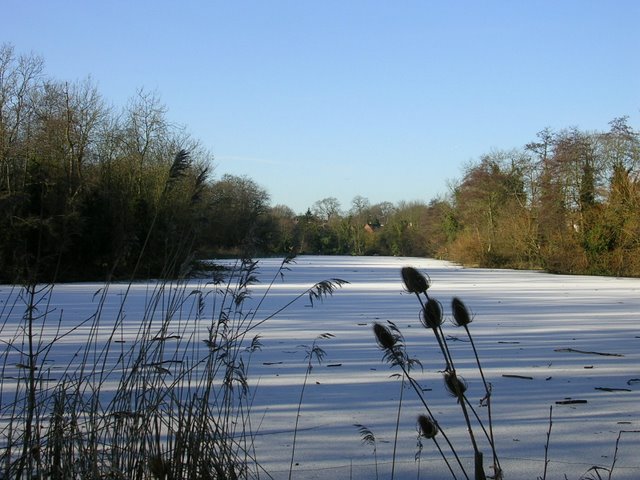 Between these two poles the central ice was the preserve of fluctuating flocks of seagulls, mainly black-headed gulls, but often including one or two of the larger herring gulls - or even black-backed gulls, if Iím not mistaken. There they would stand in considerable number, rising and swirling round from time to time, calling raucously as is their wont.
As time passed, the ice melted and the birds dispersed. The frozen scene transformed and soon the signs of spring returned. Winter was over for another year.
Words by Edwin Trout, pictures by Peter Soul