Lindenhill Wood
Not quite within the Earley area, but worthy of a mention is Lindenhill Wood at Knowl Hill, which is threatened by clay extraction. There was a meeting in Knowl Hill village hall on the 20th November which over 100 people atttended and this was reported in the local press.
The wood is the focus of a vigorous local campaign to stop Grundon extracting clay and thereby destroying about 18 acres of woodland. Planning permission was given in 1947 for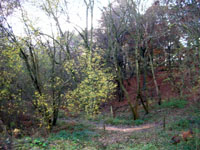 digging not to begin until 2007. The Woodland Trust say this is ancient woodland and during a visit there recently we saw many large trees of different species and several plants indicative of ancient woodland.
These photos show Lindenhill Wood, Knowl Hill. One photo shows the wood and the other, from the same point , shows the currently worked area already mined by Grundon. The clay is said to be used to cap landfill sites. I think this shows very graphically the cost to the environment of our profligate use of resources and of the throw-away society.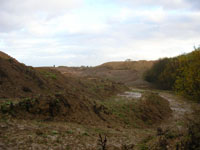 The news report can be read on the Maidenhead Advertisers website by clicking here.

Thanks to Anne Booth for the details and pictures.