READING RSPB GROUP
25th ANNIVERSARY SEMINAR
From the Reading RSPB Group.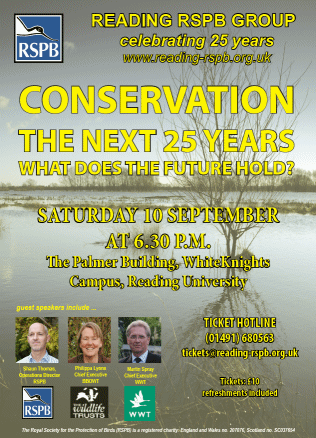 On the 10th September we will be holding a special 25th Anniversary Seminar at the Palmer Building on Reading University campus.
We've collectively come a long way since 1986 and seen a lot of changes in Berkshire, and nationally, in terms of our habitat, birdlife and conservation generally. But what about the next quarter of a century? Will the next generation be able to enjoy the range of bird species and other wildlife that we now take for granted?
We have invited three expert, excellent speakers from key environmental organizations to gaze into their crystal balls and give their views on what the future holds.
The event will start with a drinks reception at 6.30p.m. and this will also be an opportunity to visit the displays and stalls of the charities represented on the night. Around 7.30p.m. we will assemble in the main hall and each speaker will give a 30 minute talk about their vision of the next 25 years.
Martin Spray, Chief Executive of the Wildfowl and Wetlands Trust (WWT) will be looking at the impact of global warming and sea level rises on wetlands, threats to migratory wildfowl and future prospects for the Trust, both here and abroad.
Philippa Lyons, Chief Executive of the Berks, Bucks and Oxon Wildlife Trust (BBOWT) will cover the growth of the Wildlife Trusts and similar bodies and whether the concept of the Big Society will make any difference, as well as commenting on biodiversity issues.
Shaun Thomas, Operations Director for the RSPB will focus on reintroductions, the impact of increasing human population, farming practices and the economic recession on conservation, and how we can become more successful in political lobbying.
At 9p.m. we will have a general discussion session, inviting you to join in with questions from the floor before wrapping up the evening at 10p.m.
Tickets for this evening are priced at £10 per person including refreshments, and we strongly advise you to purchase these in advance, either by calling our ticket hotline (01491 680563) or emailing our ticket reservation centre.