2nd Earley Cub Group Veteran Tree Day
In connection with the Veteran Tree Survey being carried out throughout Wokingham District, on Monday 16th July the Earley Environmental Group had a visit from the 99th Reading 2nd Earley cub group based at Our Lady of Peace on the Wokingham Road to give us a hand.
In all there were 19 cubs, boys and girls, accompanied by their Cub Master David Roper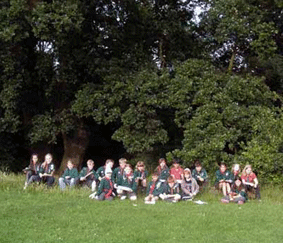 and assistant Cub Master Richard Squires. Their assignment was to go into Maiden Erlegh Nature Reserve and measure some of its big veteran trees. They were split into groups, each group being assigned a veteran oak tree. But first they paid a visit to the Gemini Tree, which looks to be two trees joined at the base and again higher up, and probably about 300 years old, to have their photo taken. Then it was down to real business, measuring the girth of the trees at a height of 1.5 metres, good maths practice. The largest tree they measured was over 4 metres in girth and probably 250 years old. Their surveying added valuable data to our veteran tree survey. They were an enthusiastic bunch and displayed caring, thoughtful behaviour in the fragile environment of the Reserve, and through this visit will now have a much better understanding of how valuable these old trees are to them and Earley.

This project will go towards their Cubs Environment Badge. We hope to welcome them back again, particularly when we do our big litter pick up in Earley next March.