Dawn Chorus Walk Sun May 8th 2011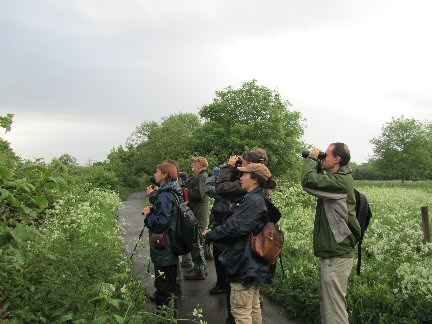 Following his talk on identifying warblers earlier in the week, Ray Reedman took 9 members of the Group to Dinton Pastures & Lavells Lake to put their knowledge into practice. Ricki writes: "One of the attendees was Silvia who was keen to see one of the Sylvia warblers and was rewarded by good sighting of both male and female Whitethroats. In addition we saw Sedge Warblers by the score (well possibly not by the score but certainly lots), a Little Ringed Plover, 2 Common Sandpipers, Song Thrush, Chaffinch, Chiffchaff, Common Terns on their new island near Bittern hide, etc. We were all thrilled to both see and hear the Nightingale singing between White and Black Swan lakes."
The full list of birds seen (not all warblers) was:
Chiffchaff, Chaffinch, Little Ringed Plover, Common Sandpiper, Common Tern, Black-headed Gull, Mute Swan, Sedge Warbler, Song Thrush, Common Whitethroat, Canada Goose, Egyptian Goose, Dunnock, Nightingale, Swift, Pied Wagtail, Great Crested Grebe, Coot, Moorhen.
Heard but not seen: Cuckoo, Reed Warbler, Cetti's Warbler, Wren, Blackcap.
Chiffchaff

Chaffinch

Little Ringed Plover

Common Sandpiper

Common Tern

Black Headed Gull

Mute Swan

Sedge Warbler

Song Thrush

Whitethroat

Canada Goose

Egyptian Goose

Dunnock

Nightingale

Swift

Pied Wagtail

Great Crested Grebe

Coot

Moorhen

Cuckoo

Reed Warbler

Cetti's Warbler

Blackcap