Dawn Chorus Walk Sun May 2 2010
Ray Reedman shared his considerable knowledge on birdsong with 8 members of the Group, who turned up at 6.15 am, and against all hopes the weather was reasonably kind, with only light rain at about two- thirds way round Black Swan, Sandford and Lavell's Lakes. Ray pointed out that our resident songsters are beginning to fade and that we are now enjoying migrants' birdsong for the next month or so. The rain kept off for most of the walk and, with Ray's expertise, we heard or saw, or sometimes both:
Swallow, House Martin, Swift, Sand Martin, Grey Wagtail, Pied Wagtail, Whitethroat, Lesser Whitethroat, Garden Warbler, Song Thrush, Blackbird, Robin, Greenfinch, Chaffinch, Wren, Chiffchaff, Green Woodpecker, Great Spotted Woodpecker, Willow Warbler, Blackcap, Sedge Warbler, Cuckoo, Reed Bunting and, best of all,

WE HEARD NIGHTINGALES SING.


It was worth the early morning start.
If you follow the links on the pictures below, you can listen to the birds' song courtesy of the RSPB.
Don't forget Ray is doing a walk round the lakes on Sunday 20th June.
Sheila
Postscript from Brian.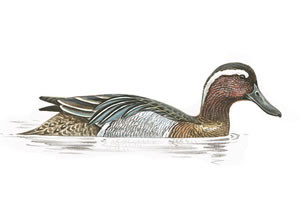 When everyone else had dashed off for a late breakfast, Ray and I were chatting when a birder with a bankers pension worth of camera equipment rolled up, and asked if we'd seen the Garganey on Lavells Lake. So off we went, in the now pouring rain. This duck is rare in Berkshire - I'd never seen one before. So well worth the delayed breakfast.


Swallow

House Martin

Swift

Sand Martin

Grey Wagtail

Pied Wagtail

Whitethroat

Lesser Whitethroat

Garden Warbler

Song Thrush

Blackbird

Robin

Greenfinch

Chaffinch

Wren

Chiffchaff

Green Woodpecker

Great Spotted Woodpecker

Willow Warbler

Blackcap

Sedge Warbler

Cuckoo

Reed Bunting