Bug Hunt at Maiden Erlegh Nature Reserve, August 6th 2008
Explorers: Caitlin, Charlotte, Emily F., Emily H., Hannah, Jay, Leo, Maisy, Oscar, Rajan, Richard, Rohan and Sandun
Helpers: Alan, Edwin, Gary, Jean, Liz, Sheila
Supported by Sarah, Jas, Kim, Catherine, Karen and Derek (photography) and Ellie
This event was organised by our chairman, Alan Broodbank, the bug hunt was a great success. The children who took part, aged between 2 and 13 years, were a credit to their parents, and the parents' behaviour was quite good, too. Alan, a dedicated, professional entomologist, conveyed to us his huge enthusiasm for the subject.
SWEEP NET EXPEDITION
After a short briefing in the Interpretation Centre, we were divided into groups with our sweep nets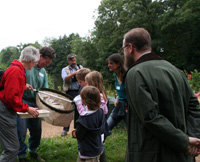 , and were off to pursue as many creepy-crawlies as possible in the wilds of Maiden Erlegh Nature Reserve. This was a real hands-on job. The quiet, reserved group that had gathered just a few moments before soon bonded and the serious business of collecting minibeasts began. It didn't take long for our merry band to get the hang of wielding a sweep net.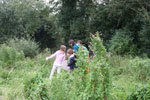 After about an hour we took our spoils back to the Centre to try our luck at identification. The children were soon busy recording descriptions and drawings of their collection. It became a hive of activity, and the microscopes revealed the wonder of small things. For instance, one small beetle which looked quite unremarkable to the eye was seen through the lens to have the most beautiful gold markings.
'BEATING' EXPEDITION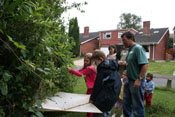 The second expedition was to carry out some 'beating', not of wildlife but of tree branches. The art is to give the branch a good whack and see what the sheet beneath catches: it's no good trying it rapidly a second time because the occupants will be hanging on for grim death! Again, the haul was taken back for closer inspection.
FINALE
The finale to our peek into the hidden world of minibeasts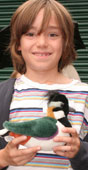 came when Alan introduced the group to his light box, set up the night before to catch as many moths as possible. These had sheltered in egg boxes and the gasps as these moths were released, many of them beautifully coloured, rivalled the reaction to a big fireworks display, as they floated away into the sky.
All the minibeasts were carefully released unharmed, Rohan received his prize for his correct entry in the EEG bird quiz competition at the Green Fair, and certificates were awarded to all who took part. It was a memorable day and thanks must go to Alan for all the hard work and preparation he put into it.
To see an album of all the photos from the bug hunt day, please click here.